Click Photo below to see Gallery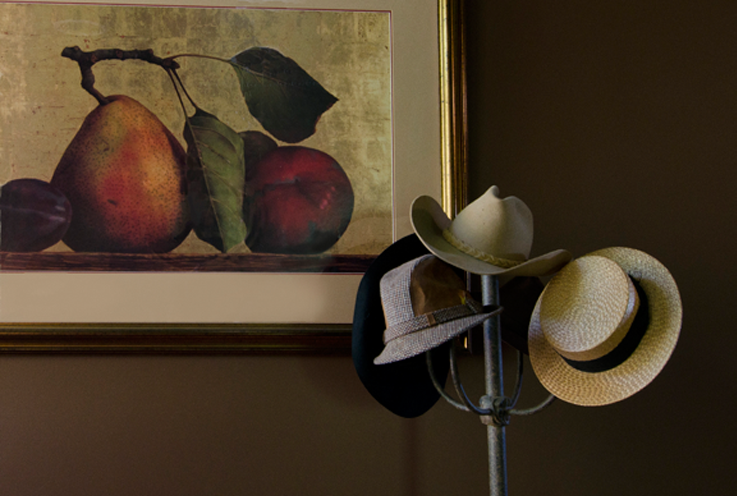 REVIEWS
Gary & Jen— What a fabulous place you have created. One can see your heart & soul has been poured into this place. The woodwork here is unfathomable, the food was far beyond our expectations, and your friendly hospitality was the icing on the cake! We enjoyed our family time in the livingroom, we slept like Babies, and feel refreshed & relaxed. Thank you for all you do, God bless you! S. W.
You have a wonderful house. It's a Paradise! And you are so very friendly. We never forget you and your amazing house! Thank you so much, P & H from Germany/ BavariaJune 7, 2009
Jennifer & Gary—We were cold & drenched cyclists—your warm beacon of hospitality rescued us from the rain & cold. We are awestruck by the beauty & comfort that you provide at the Maiden Rock Inn. Your attention to detail is impeccable. The Breakfast was a Culinary Masterpiece. Thank You M. & J.
Gary & Jennifer have truly done a marvelous job on restoring a piece of Maiden Rock history. The Inn is a stunning testimony to their creative talents. Their hospitality is second to none. They are generous and thoughtful hosts. It was truly a pleasure to have had the opportunity to stay in this gorgeous building and the atmosphere that they create is welcoming and one of feeling at home. The food was amazing & superb. Jennifer is a talented and creative cook. Thank You for making this such a Pleasant Stay! J. & T. J. Bridgeport, Washington
I had soo much fun. Thank you for the amazing breakfast. the music last night was awesome too. Soo gonna to come back and visit. Thank you for making our first visit at Maiden Rock soo amazing. You and Gary are so sweet too. ya C. &
What a delightful place to stay in Maiden Rock. it was our first time in this beautiful par of Wisconsin, and our hosts were so welcoming and made it feel like home. Thank you, Gary & Jennifer! Peace & love, K. & M.
I hope I can some and stay with you again and again. The food is exquisite, the hospitality is beyond imaginable. Thank you for all and God bless you! V. & J.
Gary & Jennifer, What a surprise to stay at the Maiden Rock Inn ! Your skills and creativity are spectacular and superb. We are speechless when seeing what you've turned this place into—an exquisite jewel. We marvel at your talents and consider it a privilege to be here. This is a story waiting to be told and shared with many people so they can appreciate you great work. You are a joy to be with. The wine was delightful—we'll be back. C. & J.
You have done an excellent job restoring this beautiful building. Thank you for helping me enjoy turning 50! Your hospitality was amazing! C. and I really want to return and see the finished product. Highlights:-rooftop patio, evening champaign by the fire, breakfast! esp. pickled beets, double bath Jacuzzi. Sincerely, D. & C.
Gary & Jennifer-Thank you so much for your hospitality. Our whole family enjoyed the food & tour of the bed & breakfast- it was so interesting to us since we all attended school here. Your work & talents have transformed this place into a gorgeous B&B. We will spread the word about this great place. Thank you & God Bless! C. & K. M.
I am in awe of your energy & vision– & creativity. To have brought this __________ project to fruition is inspiring. I hope to return and see it completed. Thank you, J. A. Open Lena Luna, Oxford, England, U.K. M & N
Gary & Jennifer, We truly have had a wonderful two days here. The old schoolhouse has transformed into a unique and one of our favorite B&B's. Congrats on a amazing adventure. Look forward to seeing you both again. Thanks for your gracious hospitality! E. & S. B
What a priceless experience—to come simply looking for a room & finding a beautiful, loving place to spend an evening. Great wine, engaging company & artful surroundings! Thank y you for such a unique experience.
Dear Jennifer & Gary- Thank you so much for having the creativity, the kindness, the courage, the patience, the hard work, the love and thoughtfulness it takes to take on reforming and rehabbing this beautiful old building into a unique and fun Bed & Breakfast. You both , along with Mo'Betta are wonderful souls and we had an exceptial experience here and we will be sure to pass along the good word. You both are very blessed & we are blessed to have met you! With love, M.R. & G.S.
We are in awe of this beautiful & unique B & B! The work that you have done in remodeling and decorating is so impressive! We love all of the extras…sun roof, game room, etc. It is definitely a favorite B & B, and we will be back. Would like to bring our adult children and other family members. Thank you, D & M C, Hudson, WI.
Dear Jennifer & Gary, thank you so much for hosting L. and me. I very much appreciate the conversations we have had. And your cheerful and eager attention to our needs & preferences The more time we have spent in our room and in the inn the more we notice and appreciate the exquisite craftsmanship the artistry of the decorations. Altogether the Maiden Rock Inn is a job very, very well done- And most of all, our pleasure has been in getting to know you two, if only briefly. Love- B. & L.
Gary & Jennifer Whew Awesome. Friendliest B&B I have ever been too. WINE was fabulous and so was breakfast. Thanks!!!!! by E. P. 9 September 2010 Our third stay and every visit is better than the last! See you next year!! K. & M. K. Washington State
The Maiden Rock Inn—A highlight of the week Such hospitality one rarely finds as well as the wondrous food—A treat to be here! Good luck and best wishes for the future. R. & G. T. Chicago, Illinois