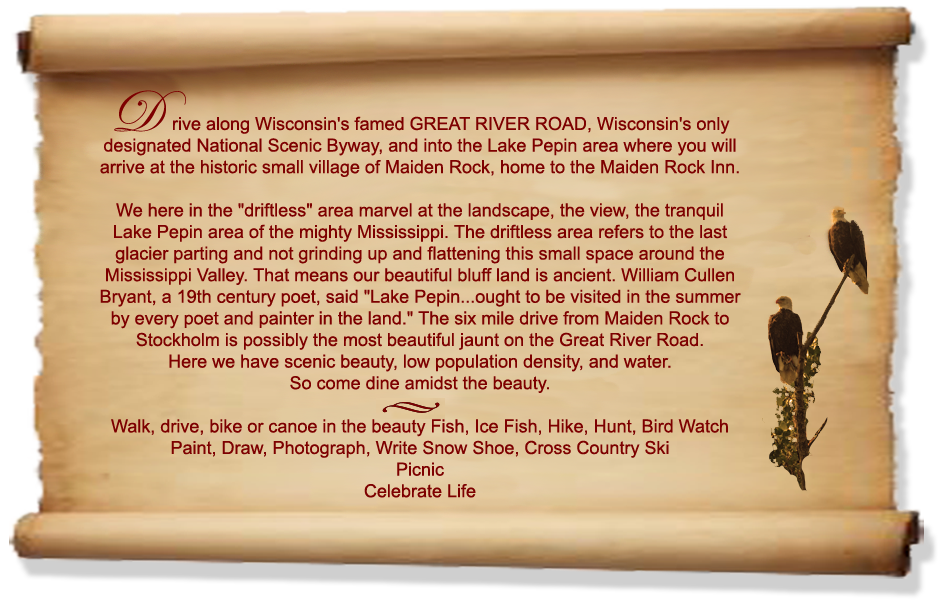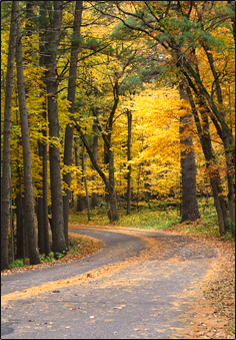 Lake City 35.4 Miles
Red Wing 18.9 Miles
Pepin 12.8 Miles
Welch Village 29.3 Miles
Prescott 35 miles
HISTORY OF MAIDEN ROCK
Maiden Rock began as a logging settlement in 1854 and was named after a bluff four miles away. The Indian legend of the bluff, tells of a young Dakota Indian woman, Winona, who leaped to her death from the top of the most prominent bluff rather than marry the Indian Brave her father, Chief Red Wing, had chose for her. Today Maiden Rock is a small village of less than 120 people.
LAURA INGALLS WILDER BIRTHPLACE
Just a few miles from Maiden Rock, the Laura Ingalls Wilder Museum is located in Pepin, Wisconsin, and features a recreation of the log home on the very land owned by Charles and Caroline Ingalls (Ma & Pa). Laura was born in Pepin in 1867 and the site memorializes the book "Little House in the Big Woods." The museum is open 10am-5PM. May 15th thru Oct. 17, then stays open Friday, Saturday and Sunday until November 1st at which time it closes for the season. For more information visit lauraingallspepin.com.
ANNUAL EVENTS
Around the Area
Running Dog Ranch
P.O box 75
Maiden Rock, WI
651-206-6719
WIMNSail, Captain Beth Anderson
Pepin, WI.
Rusty's River Rides
Red Wing, MN.
The Purple Turtle
Stockholm, WI.
Basil's
W. 3583 HWY 35 Great River Road
Maiden Rock, WI
651-290-0846
Art, Galleries & Music
Flaming Fire Art Studio
N3002 County Rd. CC
Maiden Rock Township, WI
715-647-2159
Cultural Cloth
W3557 Hwy 35
Maiden Rock, WI
715-607-1238
Secret Heart Gallery
W3553 Hwy 35
Maiden Rock, WI
651-380-2770
Hilsgen Family Farm
Handmade rugs & Farm Fresh Foods
By appointment
715-448-2050
Maiden Rock, WI.
Celeste Nelms
Maiden Rock local Photographer/Videographer
Bruce Hecksel
Original Art Inspired by Music
Day/Dunlap Studio
Linda Day
Bruce Dunlap
Accola Gallery
502 2nd Ave East, Durand, WI 54736
715-672-8188
BNOX
Pepin, WI.
Stockholm Pottery
Stockholm, WI.
Shari's Chippewa Club
Durand, WI.
Patchouli
local musicians, original music performing nationally
Eau Galle Cheese Factory
Durand, WI
Ellsworth Creamery
The Cheese Curd Capital of Wisconsin
http://www.ellsworthcheesecurds.com
Shady Grove
N6240 State Road 65
Ellsworth, WI 54011
715.273.3787
For Pete's Sake
May through October is Tuesday night Horseshoe with Chapper's BBQ Chicken
715.285.5003
Nosh
Lake City, MN
Pickle Factory
Pepin, WI
Ole's Bar
3515 State Highway 35 Great River Road
Maiden Rock, WI
715-594-3648
Rush River Produce
W4098 200th Ave
Maiden Rock, WI
715-594-3648
Smiling Pelican Bake Shop
Highway 35 Great River Road
Maiden Rock, WI
715-448-3807
The Homemade Cafe
Pepin, WI
Gelly's Too
Stockholm, WI
Harbor View Cafe
Pepin, WI
Nelson Creamery
Nelson, WI
The Stone Barn (pizza)
Nelson, WI
Vino in the Valley
Maiden Rock Township, WI